Supreme Klean™ 7-Day Total Body Cleanser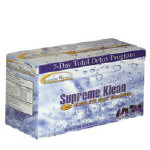 Supreme Klean™ 7-Day Total Body Cleanser
Completely Clean 7-Day Permanent Cleanser was designed for those who want to cleanse their blood, urine, hair and saliva. This product will cleanse your system in only 7 days! The detox program includes a healthy, toxin-free diet, daily permanent cleansing capsules and proper water intake. This product is NOT a mask! It safely removes harmful toxins from your body, leaving you clean, healthy, toxin-free, and most importantly, feeling good.
This intense 7-day system will totally cleanse your body, once and for all. Cleansing your blood, urine and saliva of all toxins, as well as any new hair growth. 7 Day Body Cleanser cleanses toxins from your body and brings them to a level that is undetectable by most blood, urine, hair and saliva drug tests. Toxins that are removed will be gone forever.
Daily Cleansing: Take 2 capsules with 24 oz of water three times daily for seven days in a row. Urinate frequently to remove pollutants.
Additional Water: Drink plenty of water. You should drink 8-10 8 oz servings of water per day to keep you hydrated.
Diet: Limit yourself to a low fat diet. Examples of low-fat foods are: fruits, vegetables, chicken and fish.
Exercise: Try to get at least 15-30 minutes of aerobic activity, such as walking each day.
Avoid Polluted Environments: Examples of pollutants are smoking cigarettes, second hand smoke, alcoholic and caffeinated beverages, or even running/jogging near a busy street.
Ingredients: dandelion, burdock, red clover, yellow dock, chamomile, slippery elm, alfalfa, hibiscus, licorice, rose hips.