Ultra Pure™ Ultra Cleanse Cleansing Softgel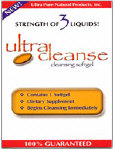 Ultra Pure™ Ultra Cleanse Cleansing Softgel
Ultra Cleanse Cleansing Softgel is a safe, natural effective product that is an important part of the detoxification process. Urine cleanser. One softgel is strong enough to protect the body and eliminate the many toxins we are exposed to on a daily basis. Ultra Pure Natural Products cleansing softgel aggressively detoxes you body for 6 hours. Ultra cleanse Softgel is convenient, triple the strength of most liquids on the market and is ready when you need it most! Useful for passing drug tests. Be safe and be clean with Ultra Pure!
Product Instructions:
Take one hour before test time (6 hours window)
Take enclosed softgel with 48oz. Of water. Avoid food 3 hours before use
Drink additional water after use
Urinate frequently
Ingredients: soybean oil, gelatin, creatine, glycerin, purified water, burdock root powder, dandelion root powder, milk thistle extract, caramel liquid, riboflavin, yellowbeeswax, lecithin, titanium oxide.